Xi Yanchun:
Ladies and gentlemen, good morning. Welcome to this press conference. As far as I know, you all share great interest in the prospects of BRICS cooperation. To help you gather more information on it, we invited Mr. Zhang Yansheng, the chief research fellow of the China Center for International Economic Exchanges, and Mr. Zhang Jianping, the deputy director of the Academic Steering Committee of the Chinese Academy of International Trade and Economic Cooperation of the Ministry of Commerce, to make an introduction and answer some of your questions.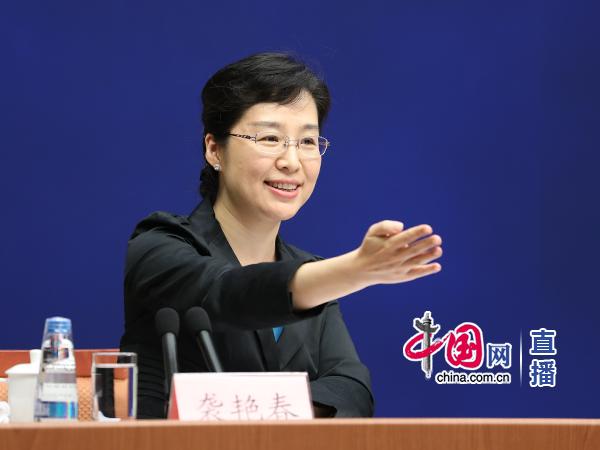 Xi Yanchun, vice director-general of the Press Bureau, State Council Information Office. [Photo/China.com.cn]
Now, let's welcome Mr. Zhang Yansheng to give his briefing.
Zhang Yansheng:
Good morning. It's my pleasure to share my opinion with you today. Please allow me to first make a brief introduction of the upcoming BRICS summit in Xiamen.
First of all, the BRICS mechanism has been running for 10 years. In the spirit of openness, inclusiveness, cooperation and mutual benefit, we have made our partnerships closer, more comprehensive, and more solid. Through practical strategic cooperation, we have promoted peace and development in the world. In the pursuit of mutual benefits and win-win results, through open and transparent cooperation mechanisms, we have expanded our scope of cooperation, and shared our gains to the fullest extent.
Over the past 10 years, the proportion of the GDP of BRICS countries in the world total increased from 12 percent to 23 percent; the proportion of foreign trade increased from 11 percent to 16 percent; the proportion of investments made in foreign countries increased from 7 percent to 12 percent. In 2016, the proportion of foreign investments we attracted reached 16 percent, and our contribution to the world economic growth reached 50 percent.
This indicated that the BRICS mechanism has played a significant role not only in the economic and trade development of the five member countries, but also in the development of other emerging markets and developing countries, as well as in the economic development of the world as a whole.